Your main port of call for selling on
Amazon.
We help your brand create innovative digital purchasing experiences to boost your sales.
Inthezon is a partner agency of Amazon Advertising   
Inthezon is a member of the Libera Brand Building Group, composed of more than 50 people with more than 5 million euro in sales, supporting brands in management of sales and advertising on Amazon. Inthezon's tools improve performance and develop projects for brand growth on marketplaces in Italy and all over the world.
E-commerce sales in Italy in 2019 totalled an estimated 48.5 billion euro, 17% growth over 2018.*
27.8 million people use e-commerce**: 98% made purchases on a marketplace, and 81% expect companies to be present on the new platforms to create better buying experiences. Amazon is the most popular of these (38%).*
*Source: "E-commerce in Italia 2020. Vendere online ai tempi del coronavirus", Casaleggio Associati, 2020.
** Source: "Multicanalità 2019 – Whats next From convergence to E2E", Politecnico di Milano School of Management and Nielsen, 2019.
+ 100% sales YoY, with
complete profile management
"We've been working with Inthezon for more than two years with excellent results in terms of sales (average of +100% YoY since 2018) and customer reviews. We appointed them to perform complete management of our profile: from catalogue management to logistics, real-time customer care and strategic medium to long-term planning of sales initiatives (flash sales, Prime Day, etc.) ."
Marco Dall'Olio
Digital Marketing Manager Infinity – Mediaset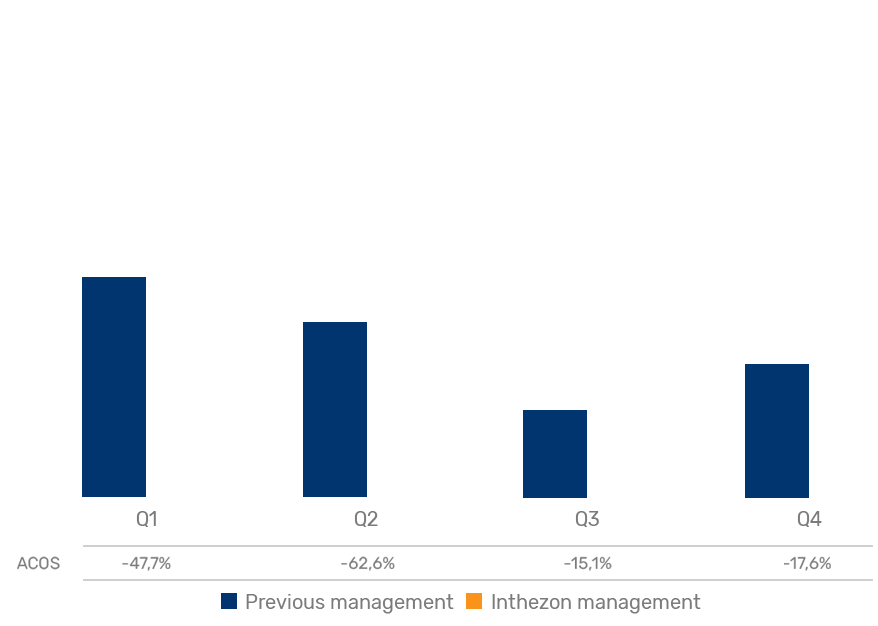 We approach each project using a consolidated methodology
we boost sales on Amazon with strategic consulting services and planning of visibility campaigns
we use our platforms to define sales strategies on Amazon and share tools for improving media management in Amazon with our customers
we manage our customers' profiles in full service mode, taking care of catalogue management, marketing, logistics and administration
we manage numerous profiles on the national and worldwide levels.
Inthezon is a partner agency of Amazon Advertising   
Our customers, your guarantee
Full-service approach to management of the sales process
We work with Italian and international brands to accelerate their business worldwide on Amazon:
Brands wishing to undertake a strategy for beginning to sell on Amazon, Vendors and Sellers wishing to increase sales and improve their control over their brand identity, companies intending to delegate all aspects of the management of sales, logistics and customer invoicing
We manage thousands of product pages, not only in Italy but in the rest of Europe, the USA and Japan. Our tools contribute to brand growth on worldwide marketplaces.